Daics
Merchandise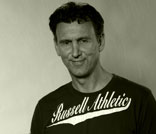 For those of you in the know Daics does not sign much other than that for the companies/clubs/charities that might engage him or occasionally the lucky autograph hunter. He has purposely resisted the temptation to flood the memorabilia market but rather we are currently taking orders for a very limited range of individually framed and numbered Peter Daicos signed jumpers.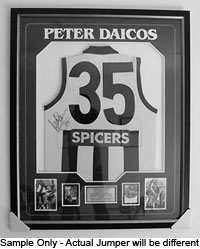 This beautifully framed item will also include some pic's of Daics including a rare collectors card and a summary of his proud playing stats. Each will come with a letter verifying its authenticity from Daics himself.
To discuss your order please email Daics or use the bookings page and we will be in touch.